8 Benefits of Marriage under Arya Samaj Mandir
Marriage done according to the customs and traditions of Arya Samaj is the most preferred option for couples looking to get married in a simple and affordable way. The holy place of Arya Samaj temple welcomes all people into its fold, bestowing happily married couples with blessings. There are enormous benefits of Arya Samaj Marriage. In this article, we will discuss the benefits of choosing Arya Samaj Mandir in Burari for getting married.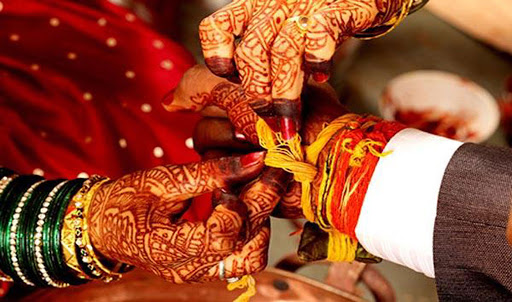 No discrimination – One of the best benefits of choosing Arya Samaj marriage is that it is open to people of all faith and religion. It doesn't differentiate people on the basis of caste, religion, and ethnicity. Arya Samaj temple is not a place for discrimination of any kind.
Teachings of the great Swami Dayanand Saraswati – Arya Samaj weddings follow the instructions of Swami Dayanand Saraswati, and the marriage is done according to the rituals of Arya samaj.
Certified and legal – Not only this, marriages taking place here are fully certified and recognized in the eyes of the government of India. A couple can get their marriage certificate immediately after the wedding without any hassle. You can issue the certificate of marriage in the Marriage Register office, which can be useful in the future. Arya samaj marriages are legal. After securing the certificate, no one can challenge your wedding in the court of law.
Vedic ritual – These weddings follow the spiritual chants of Vedas, just like any other Indian marriages, without too much flashiness.
Dowry – In Indian society, many in-laws harass the bride for dowry. One of the best advantages of Arya Samaj wedding is that it is helping in getting rid of social evil called dowry. Here, the groom cannot exploit the bride and her family for money or any other unreasonable demands. It strongly opposes the dowry system and wants to liberate society for this curse. With this, you can also be protected from social evil.
Child Marriage – In addition to the above benefits, in Arya Samaj, child marriage is prohibited. In the Arya samaj temple, marriage is only performed on the legal couples. The groom should be 21 years of age, and the bride should be 18 years.
No intoxication – Drinking is another problem related to Indian weddings. This can sometimes lead to fights and quarreling, and the situation escalates also. There are instance when guests have to suffer injuries. No one appreciates violence at their wedding. At Arya Samaj Mandir, consumption of alcohol is strictly prohibited during the marriage ceremony.
Save you from unnecessary hassle – Wedding performed at Arya samaj temple has limited guests, which saves the bride and groom family from unnecessary trouble. There is no need for tents, a DJ system, distribution of cards, transportation, and so on.
So, if you are thinking of getting married at Arya Samaj Mandir in Burari, contact us today. We will make sure to give you a simple and beautiful wedding you have always dreamed for.